Inevitable Usages Of Copper Tray
The copper tray suits best in old style homes with lots of antique decorative around but never look out of place when used in modern home styling. In fact it adds an antique touch and royal feel. Even copper tray itself is considered a classic home decor. It can be used for different purpose and also looks appealing. It requires low maintenance, durable and unbreakable. In Indian Hindu tradition; copper tray is being used for worshiping purpose at temples and shrine in houses.
It is myth that Hindu considers copper as holy metal. Copper Pooja tray is used for displaying the offerings to god like fruits, flower and rest worship items. Copper trays are available in various designs, shapes with different motifs. The Persian copper-ware or copper trays are intrigued with floral carvings whereas, the antique Indian copper trays are designed with carvings of god-goddesses and famous kings. The
copper trays
are available in the shops carrying antique collectibles.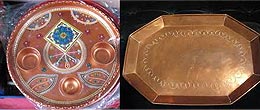 The copper tray can be of either plain finish or hammered. The plain ones are generally uncoated finish but the modern era copper trays are available in powder coated to match with the crockery line in the house. Copper could be mixed with brass to make the tray shinier. The copper tray constitutes the modern tableware giving a different look. Some
copper tray
nicely carved with different motifs are used as wall hanging. They can be used as decorative items and for serving food and drinks as well.

Looking for best quality Copper Accessories?
Allow us to help you find the right suppliers to match your product interests.

Featured Articles

Find the repository of articles and write-ups on Copper Accessories. Just browse through the section to keep yourselves up-to-date.

»
Copper Cookie Cutter as Gift Item
»
Inevitable Usages Of Copper Tray
»
How to Keep Your Copper Kettle Shine
»
How Copper Utensils React Harmfully to


Human Bodies?
»
Copper Sinks: Tips for Care &


Maintenance
»
Setting Up A Retro-Style Home Bar
B2B Trading Zone