Copper Kettles
Due to of its stylish appearance earlier copper tea kettles were used for decoration than practical use. Copper is a great conductor of heat, It can boil the water with in few minutes. Copper tea pot has strong durable properties, high thermal conductivity, cost-effectiveness and versatility. It can be used on both gas and electric ranges, which makes these tea pot will fit nicely in almost any kitchen.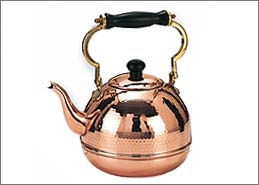 Product Overview
Copper tea kettles look extremely elegant. Apart from tea kettles , Kettles also refer to any large, sturdy pot.
Features
Copper kettles are heavy
Copper kettles have tight-fitting lids
They are available with fitted wire racks. Those racks hold filled canning jars securely in a place while they are boiled
Tea kettles have handles and spouts with them
Utility
Copper kettles are generally used for making tea
Due to heat conductive property of the copper, copper kettles is very useful for quickly bringing to boil

Looking for best quality Copper Accessories?
Allow us to help you find the right suppliers to match your product interests.

Featured Articles

Find the repository of articles and write-ups on Copper Accessories. Just browse through the section to keep yourselves up-to-date.

»
Copper Cookie Cutter as Gift Item
»
Inevitable Usages Of Copper Tray
»
How to Keep Your Copper Kettle Shine
»
How Copper Utensils React Harmfully to


Human Bodies?
»
Copper Sinks: Tips for Care &


Maintenance
»
Setting Up A Retro-Style Home Bar
B2B Trading Zone