Setting Up A Retro-Style Home Bar
Sooner or later you'll realize "could be there something better than stacking up the bottles in your refrigerator with inadequate space for the accessories". Immediately a picture of bar conjures up in your mind, where you imagine yourselves whipping up a drink for your dear friend. Now, there is nothing to imagine because you can set up your personal bar with even a small space and limited budget.
Setting up a retro-style bar at your private space with respective bottles will be a booze. The retro theme plays with the earthy charm of the copper. Get started by selecting a right cocktail cabinet for your entertainment corner. The cabinet should have a pull shelf or broader top enough to mix and serve drinks. There are multiple options such as ornate Victorian hutches, bamboo tiki bars, even large wooden bars complete with foot rails.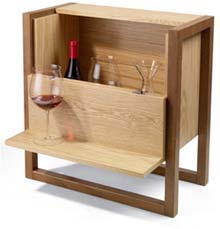 You also have an option to convert another piece furniture to bar cabinet. Cabinets, armoires or buffets can be modified to give a perfect look to your home bar. These cabinets provide the flexibility to customize your storage space - for instance, if you dislike wine, forgo the wine rack and instead create small display shelves for your souvenir shot glass collection. Whether you purchase a cabinet from the market or create or own, you'll find it more convenient if you place it somewhere near the kitchen or sink. This will allow instant storage of the delicate bar items immediately after wash.
Copper bar accessories
complete the theme of retro-syle bar at your home or entertainment corner. Accessories vary, but you always need some of the basic equipment including
cocktail shakers
/ blenders, corkscrew, tongs, ice bucket, serving trays, measuring spoons and shot measures. Create a separate stand to make the display more attractive and convenient for use.
The real essence of the bar lies in the glasses. There is no fixed rule that drinks should be served in certain type of glasses, but for a well equipped bar you will have to acquire variety of glasses. Stemmed glass always makes for the big occasion, and to make every occasion big you must have stemmed wine glasses. You can also go for oblong glasses for fruit cocktails, highball glasses and similar glasses that are short and stout, shot glasses, champagne glasses, beer mugs and brandy snifters.
Now, you can go for the mix and match of the spirits. There is a long list; vodka, gin, scotch, tequila, brandy, vermouth, capari and much more. The retro-style home bar with the rustic furniture and charm of the copper will surely make your neighbors envy.

Looking for best quality Copper Accessories?
Allow us to help you find the right suppliers to match your product interests.

Featured Articles

Find the repository of articles and write-ups on Copper Accessories. Just browse through the section to keep yourselves up-to-date.

»
Copper Cookie Cutter as Gift Item
»
Inevitable Usages Of Copper Tray
»
How to Keep Your Copper Kettle Shine
»
How Copper Utensils React Harmfully to


Human Bodies?
»
Copper Sinks: Tips for Care &


Maintenance
»
Setting Up A Retro-Style Home Bar
B2B Trading Zone