Home
>> Copper Kitchen Accessories
Copper Kitchen Accessories
Kitchen is the most important place of any home. The term kitchen accessories is commonly used containing several things used for the process of making or cooking food. Now a days, copper accessories is an important part of the kitchenware.
Product Overview
Kitchen accessories makes your cooking much faster and much convenient. Now a days, copper accessories is an important part of the kitchenware. They add regal touch to your cooking space while adding to your cooking convenience. Modern kitchen accessories are a little costly as compaired with steel kitchenware, but they are worth purchasing owing to the attributes that they possess. Copper kitchen accessories serve dual purposes :
After using them when they become old than they can be reused as decorative showpieces.
Copper kitchen accessories can furnish your kitchen providing an epicure touch.
Design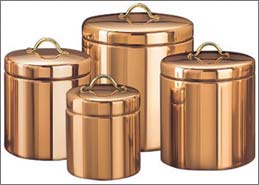 A vast range of copper kitchen accessories are available in the market such as copper canisters, copper burner covers, copper cookie cutters, copper funnels, copper graters and shredders, copper oil cans and many more. Each one of them has its own classifications and types. As compared to earlier times the use of copper utensils has increased tremendously. Available in a variety of shapes, sizes and varied price ranges these accessories are best and ideal that fit the needs of each and everyone. Copper is a well known oldest metal and copper kitchen accessories are available in various forms.
Types
There are various types of kitchen accessories available in the market. List of them are here below :
Features
Some of the features and uses served by copper kitchen accessories are :
Represents high-society value.
R & D shows that copper has medicinal value.
Used to work out versatile applications of kitchenware.
Excellent looks.
Outstanding heat conduction property.
Secure from humidity as well oxidation.
Copper kitchen accessories are very much recognized and appreciated in families all across worldwide. Kitchen accessories include a large medley of copper kitchenware. Main utility of them is to solve the various purposes of the kitchen other than cooking. Due to the positive effect of copper on human health & body, families prefer more copper kitchen accessories everywhere.

Looking for best quality Copper Accessories?
Allow us to help you find the right suppliers to match your product interests.

Featured Articles

Find the repository of articles and write-ups on Copper Accessories. Just browse through the section to keep yourselves up-to-date.

»
Copper Cookie Cutter as Gift Item
»
Inevitable Usages Of Copper Tray
»
How to Keep Your Copper Kettle Shine
»
How Copper Utensils React Harmfully to


Human Bodies?
»
Copper Sinks: Tips for Care &


Maintenance
»
Setting Up A Retro-Style Home Bar
B2B Trading Zone