Copper Utensils
Utensils made from copper outshines and harmonizes the rich magnificence of modern kitchens and ethnic eateries. They come under the category of copper kitchen utensils, copper cookware utensils, and bakeware that are the food preparation containers comprising of cooking vessels such as saucepans and frying pans, vessels used in oven etc.
Product Overview
Utensils are the vessels used in household especially in kitchens. Today's world is ever changing and copper utensil have taken over the pride which was once dominated by steel utensils.
Features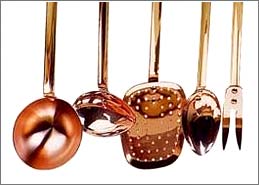 Sometimes they are made of solid copper or sometimes mixed with some other metals.
They vary in shapes and sizes.
They are available as per requirement.
Types
Mentioned below are the various kinds of copper utensils :

Looking for best quality Copper Accessories?
Allow us to help you find the right suppliers to match your product interests.

Featured Articles

Find the repository of articles and write-ups on Copper Accessories. Just browse through the section to keep yourselves up-to-date.

»
Copper Cookie Cutter as Gift Item
»
Inevitable Usages Of Copper Tray
»
How to Keep Your Copper Kettle Shine
»
How Copper Utensils React Harmfully to


Human Bodies?
»
Copper Sinks: Tips for Care &


Maintenance
»
Setting Up A Retro-Style Home Bar
B2B Trading Zone