Copper Sinks: Tips for Care & Maintenance
If you have purchased copper sinks, there are certain things you need to know. Maintaining these sinks are not much difficult. All you need is to know some simple techniques that might not be applicable for your ordinary sinks. Just go through the following instructions to familiarize yourselves with these techniques.
Cleaning Tips
Never use abrasive and soft scrub, water and soap is enough to perform the task. Avoid using coarse, acidic or alcohol-based cleaners. Use hot soapy water for clean and gently shovel the surface with a nylon brush. For tough stain, you can try paste of baking soda with lukewarm water. Rinse throughly and dry with soft cotton cloth.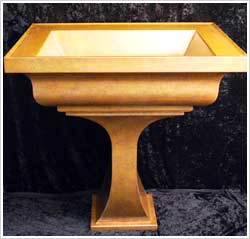 Maintenance Tips
Copper Sinks
are much robust and can be used for most of the household work. But avoid using excess of exposure to acidic foods like tomato sauce and citrus products. If the acidic content remain in contact for a longer period of time, it may result in discoloration o the surface. As the surface discolors, it will slowly start darken down with the use.
To keep your sink in pristine condition, you can also use the following techniques:
Waxing - Wax can protect sink from getting mineral deposit build ups. Use good quality wax at least twice a year. Apply wax, allow to haze and buff thoroughly till finally removed. Waxing provides an additional layer for extra protection.


Polishing - If required, you can use furniture oil or olive oil to create a dazzling effect with a brilliant shine. Experts recommend Olive oil for the purpose. Regular polishing will enrich the color and patina over the time.
Copper is more sanitary than an other material. It naturally resists bacteria and germs. Researches have proved that bacteria can survive for days on a stainless steel surface, but for its not just even matter of hour in copper.
Hence, copper sinks are much more preferred for kitchen and household use.

Looking for best quality Copper Accessories?
Allow us to help you find the right suppliers to match your product interests.

Featured Articles

Find the repository of articles and write-ups on Copper Accessories. Just browse through the section to keep yourselves up-to-date.

»
Copper Cookie Cutter as Gift Item
»
Inevitable Usages Of Copper Tray
»
How to Keep Your Copper Kettle Shine
»
How Copper Utensils React Harmfully to


Human Bodies?
»
Copper Sinks: Tips for Care &


Maintenance
»
Setting Up A Retro-Style Home Bar
B2B Trading Zone