Copper Utensils and Wedding Ceremony Go Hand in Hand
Talk about certain occasions and ceremonies where gifts are endowed as a token of love, but wedding ceremony is such an occasion when a bulk of gifts brought along seems not enough. Exchanging gifts on marriage is a symbolic & exemplary gesture which shows how much you love & care your daughters, sisters, or friends. Every wedding has traditionally and customarily been linked with materials. Copper is considered traditional and propitious, so blessing brides with copper pots and utensils believed ritually auspicious, moreover magnificent.
Copper utensils come in a variety of sizes, styles and quality and the market is replete with exquisitely beautiful copper pieces to suit every individual's expectation and choice. There are also accessories made out of copper such as mirror frames, buckets, vases, and planters turn out to be excellent and classic wedding gifts that serve as a symbol of love & affections.
For the embellishment of the decor of your house, you can pick up from the fancy variety of copper chimney & wind chimney. Quaint trait of the wind chimneys is that it produces symphony on drizzling days that pleases our senses and spirit. Copper mirror frame attaches charm and style to interior design of your house and symbolizes love between bride and grooms. Interesting part of this accessory is that it is available in impressive finishes and shapes like round, oval and rectangular to bewitch the visitors & lookers.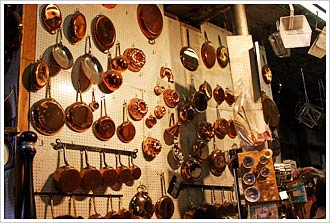 Copper utensils are the perfect choice for the kitchen because of malleability & softness. You can endow copper canister, cookie cutters, cookwares like casseroles, stock pots to wannabe bride. Apart from these, you can also look out to giving a gift on your friends wedding and opt for a copper tea-set, juice set, and ice cream cups. Copper kettles & cups look beautiful with their curvy and inviting shapes and sheen. Other than these items, you can find copper tablewares like cooper cheese shakers, jugs, platters, trays, and many more, available in different contours and size that can beautify the look of the tables and desks.
It is an universal truth that a gift conveys your feelings to your loved ones. Generally people admire copper utensils and always value & enjoy them for a long time. So be it your friend's or daughter's or sister's marriage, you can bless her with copper made accessories as a gift. You can be assured that it will be liked & cherished by the recipient and will serve as a constant reminder of your love & care.

Looking for best quality Copper Accessories?
Allow us to help you find the right suppliers to match your product interests.

Featured Articles

Find the repository of articles and write-ups on Copper Accessories. Just browse through the section to keep yourselves up-to-date.

»
Copper Cookie Cutter as Gift Item
»
Inevitable Usages Of Copper Tray
»
How to Keep Your Copper Kettle Shine
»
How Copper Utensils React Harmfully to


Human Bodies?
»
Copper Sinks: Tips for Care &


Maintenance
»
Setting Up A Retro-Style Home Bar
B2B Trading Zone